The rain fell slowly underneath the dark grey sky, dripping down on to the onsens and baths, a cold contrast to the steaming and roiling waters of the hot springs. The denizens of Yugure installed the baths with great care, with a large skull overlooking them. With water trickling down the bleached bones of the large skeletal head, a figure entered the bath, new to this place.
Isomo arrived and at first was taken by the sheer view of the waterhouse, sitting atop the lair, surrounded and hidden away in jagged black stone, surounding the place and forming natural cavities that were used as baths, as if half of them were in a cave and the other underneath a shrine-like roof, exposed to the outside. With a tile roof of old tile and red painted pillars, the ambiance was both lugubre and bleak, but also conforting and zen in a way. As she walked toward the edge of the warm water, Isomo looked around, and removed her ample black Kimono, revealing her naked self underneath. Her skin was leathery, covered in stitches and cracks, as if dry and dead, but her silouette and shape was the one of a athletic and young woman, curved and with great assets. Her long grey hair flowed so long behind her head that it hid her butt as well as other private parts. A few seconds before entering the water, Isomo took her time and slowly entered, wanting to feel the cold and sharp winds on her dessicated skin. As she immersed herself in the cold waters, her hair floated, and she quickly sunked her head, soaking all of the grey hair, making them appear now all black, as to not have it in the way.
As she relaxed in the hot and bubbling water, Isomo looked around, waiting for a presence or someone else to join, as she figured this place was full of inhabitant and people she wanted to get to know. She waited in the baths, enjoying the kind of things she never could before while she waited for an arrival.
Mizuki Ohta

Missing-Nin (S-rank)

Survived 2021

You've completed the Christmas Event of 2021 and qualified for the last reward, by partisan you are awarded this fancy badge!

Stat Page

: Mizuki Ohta

---

Mission Record

: Mizu's Log

---

---

---

Clan Specialty

: Medical


Village

: Missing Ninja


Ryo

: 330650

---
The weather had begun its inevitable decent as winter nipped in the wind, blowing the leaves across the path to the sanguine baths. Having let in newcomers to the estate she had found little time to relax - and with the weather turning the heated springs seemed a good way to destress. As she walked, the thin silk robe tied at her waist drifted behind her with each step of her slippered feet - silent as the wind. Entering the initial chamber to the bath house she set the towel she carried down and slipped the shoes off - preferring the rough heated stone.
As she started toward the main bath chamber she halted as the soft echo of a heartbeat hit her, causing her expression to tighten. Of course someone would be here… sighing she turned back and stripped out of the robe - tying the towel around her tightly before entering the main room. With the steam thick it took her a moment to pick out the form in the back recess of the room soaking in the water. Raising an eyebrow she would speak as she too slipped in the water - the towel still tied around her body.
"When I said make yourself at home, you really took me literally didn't you?"
, her tone was a touch more familiar, maybe even teasing.
"The water really makes one feel more… human wouldn't you say?"
On the surface the conversation could be described as friendly, but anything with Mizu was rarely as it seemed. Yes of course the question was honest on it's surface, but the underlying acknowledgement that neither women were truly human hung quietly between them.
Settling her back against an alcove that held a view of the sky she leaned her head back - there was generous space between the two as they faced each other, but not far enough that a conversation couldn't be held. Eyes closed she let her face fully relax into its natural state of apathy.
"What are you doing here Isomo. What's your goal here? You clearly convinced my brother of your worth to be brought home… but in the end it's I who needs convincing."
As she spoke her left hand reached behind her and pulled out a cigarette and lighter, having stashed them there for such occasions.
Sliding the butt between her lips and flicking the lighter til it was lit, only speaking again once she took a long drag and blew it out - eyes now fixed on Isomo.
"So convince me."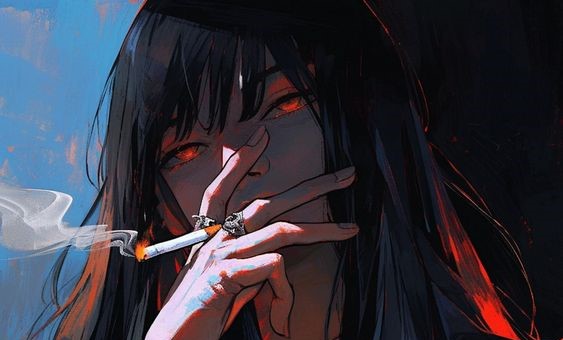 Wc 418
As Mizuki walked in and joined in the bath, Isomo felt her cold presence trough the heat of the baths, both litteraly and figuratively. The lady of the house was intimidating, and commanded both fear and respect. It was with pleasure that Isomo met her again, even if this time both woman were in the baths. Isomo reveled in the disturbing, and her nature of being not trully human, as well as perturbating. She got up, disregarding the courtesy and presented herself totaly naked in front of Mizuki, only to do a light bow down, ungratefull, unpolished, before getting back into the water. As Mizuki notted that she made herself at home fast and hinted at both thier lives being mockery of humanity, Isomo laughed and tilted her head on the side, letting her very long locks of grey hair sink into the water, floating around like a dead cat in the bath. With a lingering smile, she looked straight into the menacing eyes of the pale lady, and answered.
''Well certainly my lady, I do feel at home here, if I can stay. It does make me feel more human, almost as if it washes all the blood away... Too bad I don't have blood right? But here we are, two monsters disguised as humans, looking at each other and wondering about the future...
ahahahAHAHAHAH!
'' would say Isomo with a serious tone, her voice slow, almost sensual, not toward Mizuki, but only as a way to speak. As she laughed away the end of her sentence showing her unhinged side and flashing bits of insanity.
As both woman stayed in silence and enjoyed the bath in each other tense company, Mizuki turned again to ask another question to Isomo. What was she doing here? What was her goal? Mizuku was curious as to what she was tryingto achieve, and she needed to be convinced. After all she was the lady of the house, not Arantima who was the one to brought her here. She would need to be convinced, both for the sake of her keeping her house safe, and for the sake of Isomo accomplishing her objectives.
As she drew a cigarrete, lit and smoked it, she replied again to convince her, this time in a tone of authority, speaking as if she gave her an order. And Isomo was happy to oblige.
''Alright my lady, I will be very straight forward, as I feel you and me both don't like to loose our time with small talk, even if we
clearly
both have a sense for theatrics. Yes I convinced your brother to get me here. He was insulting me every step of the way, and I played the beated down puppy, begging and all convinced for him. But my true goal is related to you and you only. I want to have a familly. Only a mother can provide that, a leader, a authoritive figure. I want to serve you. I want to destroy everything you want destroyed, Kill and eat everyone you want me to, and protect those of my family. I will follow your way of life, obey your orders and protect you with my life. But I also want to fulfill my desires. In exchange of my undying servitude, I want you to help me, as a member of your beloved family, to succeed in my goals. My goals are to become a feared creature, a monster of the night, worthy of the worst nightmares, Unkilable, possessing many powers tied to bloodlines, and to become immortal. I pray Jashin sure, but he is a tool, a mean to an end. This is what I want. I pledge myself to you and your objectives, until the world ends, the mountains colapses and the seas dry up. Oh and, if you also have a medical nin, I would like to get some... modifications to my body.'' Said Isomo, once again looking in the eyes of Mizuki with passion this time, her facial expression lighting up as she spoke the truth for once, the ugly truth, and pledged herself to the Dark Lady of the House with her usual creepy smile.
Mizuki Ohta

Missing-Nin (S-rank)

Survived 2021

You've completed the Christmas Event of 2021 and qualified for the last reward, by partisan you are awarded this fancy badge!

Stat Page

: Mizuki Ohta

---

Mission Record

: Mizu's Log

---

---

---

Clan Specialty

: Medical


Village

: Missing Ninja


Ryo

: 330650

---
The bored expression didn't leave her features as the insane woman went on, analyzing everything from the minute to the obvious. Obviously speaking the woman wasn't shy, while Mizuki wasn't a prude she didn't go around so brazenly either. Aside from that she seemed to lack refined manners but a basic understanding of what was expected. Honorifics just like Arantima, most likely heard him speak of her this way and assumed it was required. Speaking of what was required she seemed to have a loose tongue metaphorically… her eyes drifted over the slits on either side of Isomo's mouth … and literally.

"…even if we clearly both have a sense for theatrics."

Her expression tightened minutely as she fought the urge to smile at the amusing and accurate assessment. Loose tongue indeed - Isomo spilled into a brutally honest explanation; not only admitting to manipulating and deceiving her brother to get closer to her, but all to serve her. The declaration would have made any Kage thank the gods for such a savage desire - but she wasn't a Kage. It was more than to the point, it was overboard, it was… insane. The sharp desire to end this creature before it got loose coursed through her being - the urge so demanding she found the hand holding the cigarette clench as if preparing for hand seals. The next moment however the usefulness of such a creature if trained properly would be beneficial. But to trust any wild animal you have to break it first.

Without moving from her seated position she heaved a sigh as though exhausted, "You said, 'I will follow your way of life, obey your orders and protect you with my life', Prove it. Submerge in the water and don't come up till I tap your shoulder. It's an easy enough task.. And as you've so appropriately stated, I love my theatrics. I could use a few moments of silence anyways." Her gaze flicked back up to the ceiling - the power of choice was in Isomo's hands but the real power was staring at a particularly sharp rock waiting for obedience.

wc 352
Wed Nov 29, 2023 10:45 pm
As the unimpressed Mizuki listened to Isomo, she knew that she at least captured the attention of the lady of the house with her brutal and pure honnesty. She was after all, a weird specimen, and it was only natural for such a leader to want to test such creature. As Mizuki looked at Isomo while smoking her cigarette,  she exhaled a large cloud of smoke before saying this and quoting the leathery woman. 

 "You said, 'I will follow your way of life, obey your orders and protect you with my life', Prove it. Submerge in the water and don't come up till I tap your shoulder. It's an easy enough task.. And as you've so appropriately stated, I love my theatrics. I could use a few moments of silence anyways."

As Isomo listened, she answered almost as quickly with a nod, not wanting to disturb the silence that lady mizuki asked for. as she finished her sentence, Isomo slowly let herself sink into the water. Her heavy and muscular body, filled with dark and thick threads of black rope was more dense than a normal blood filled human body, and she sunk into the depth of the baths slowly, her creepy face disapearing under the waves and bubbles of the bath as she went deeper and deeper into the water. To Isomo, this was a fine test of loyalty, as she was good to maintain her breath. What she didnt understand tho, was why anyone would want to relax with herself, a creature of the most horrid type, deep underneath them in the water they were trying to relax in. As the grey haired woman tought of it as funy, or had flashing tought and intrustives toughts of bitting of a toe or a whole foot, she maintained those urge on a short leash, keeping to the task ordered and sitting into the water, underneath the waves. The warmth was even more intense as it now filled and recovered her whole body. Her hair danced around like smoke in the air, spreading into the water around her. 

This reminded her of her home country, Amegakure. She used to go swim into the lake around the city of never ending rain, and the underwater feeling of having one's life hanging by a thread was the same. Except this time, it wasnt to forget her miserable life that she was under the water, it was to make it better by ten fold. As she concentrated on that tought, she remained calm, underwater, giving her mistress a few moments of silence.
Mizuki Ohta

Missing-Nin (S-rank)

Survived 2021

You've completed the Christmas Event of 2021 and qualified for the last reward, by partisan you are awarded this fancy badge!

Stat Page

: Mizuki Ohta

---

Mission Record

: Mizu's Log

---

---

---

Clan Specialty

: Medical


Village

: Missing Ninja


Ryo

: 330650

---
Sat Dec 02, 2023 10:48 pm
She hadn't spoke a word, nor acknowledged her demand - simply sank into the water, leaving the silence that she so craved. Or at least as close to silence as she could get, as she was still close enough to hear the rhythm of her heart beat even under the water. In that silence she was able to assess in peace the usefulness of such a being - Does she even know what she is signing up for? A small voice she thought she had discarded whispered nearly unheard in the back of her mind.

Ohta.

In an instant her eyebrows furrowed in anger - the unwanted opinion of a past self she wanted nothing to do with. Yet the voice urged on in it's whispering tones - Adhering someone without their understanding is as good as coercion. The soft tones flitted back and forth in volume as it spoke the words. Perhaps it was due to the life threatening test she was putting Isomo through but the continuation of her lecture in her head was more than unwelcome. I thought I was rid of you, the only thought she allowed in answer before lifting herself from her relaxed position to saunter over to the place the grey hair had sunk under.

Ignoring the cries for fair assessment she reached under the water with one hand and used the other to take the cigarette from her lips. With the hand under the water she gripped the mass of hair floating up to the surface and dragged Isomo above the drink. "Hope you've said your prayers
I'm not doing any favors, you might see me as your savior-" She peered down at the drenched woman in her grasp, " - but being a god's just in my nature." Her gaze would flicker over the area as if anything else interested her, though her hand clenched even harder on the girl's hair with a slight jerk up to bring their faces closer. "Ever have a god that just wanted to watch you sin? I know you thought you're in control, I pulled you too far in…" The pause was more for emphasis than reply as she bore down the woman, "-and I'm your new religion. Not Jashin. Understood."

While the last word should have been a question it came as a command. She wasn't asking the half drowned being, she was telling. Loosening her grip slightly as her face softened to a more universally seen softer side. "Welcome to Yugure, pet. Training begins tomorrow, meet me in the courtyard at 7 am." Releasing her hair finally she stepped back, bringing the still smoking cigarrette to her lips to take another drag.

"Dismissed."

wc 444
Permissions in this forum:
You
cannot
reply to topics in this forum