Yuuma Fujiwara

Chunin

Stat Page

: Link

---

---

---

Village

: Hoshigakure


Ryo

: 116770

---
Name:
Kamifude
Appearance:
A special paper Ofuda that is particularly good at sealing all sorts of energy to a small degree.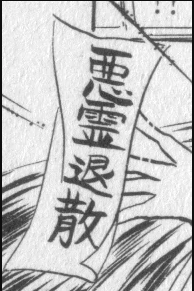 Backstory:
There have been many different uses of Ofuda through the many generations, from charms and seals to blessings and warnings. Although the script can often be etched into metal, wood, stone, or paper, a Kamifuda is traditionally done on paper and is the most typical form used in regard to sealing energy.
Health:
50
Description:
When placed on a Fuin seal, this seal will delay the activation of said seal for 1 post before burning away and being consumed. The seal is not utilized or consumed until the fuin seal is activated. If placed on a person, it will instead delay the activation of the next pre-placed fuinjutsu seal the target has on their body by one post. This item has no effect on fuinjutsu that are already activated. 
Price:
~
Character Specific:
~
Bonus Requirements:
Spirit Rise event
Permissions in this forum:
You
cannot
reply to topics in this forum