Dracoso

Chunin

Stat Page

: Dracoso Hehane

---

---

---

Clan Specialty

: Ninjutsu


Village

: Kirigakure


Ryo

: 88570

---
Mon Oct 03, 2022 12:10 am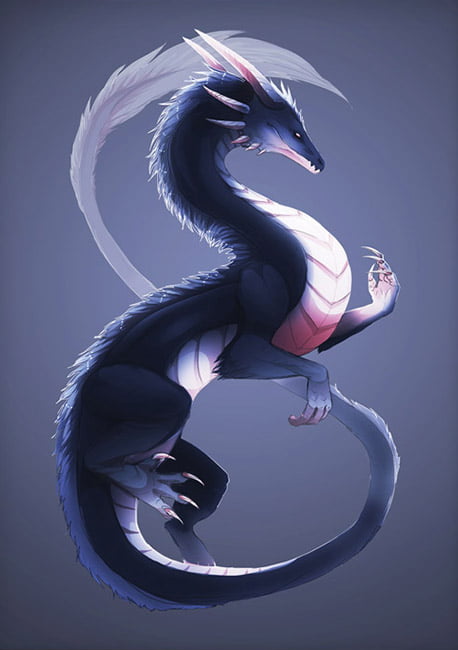 Note: this companion will be claimed with an Event Exclusive Token
Name:
Shiyuko (Yuko - shortened version by Fushon)
Animal Species:
Mutated Komodo Dragon
Gender:
Female
Owner:
Fushon Inuzuka
Appearance:
Yuko has an unusual appearance compared to the other Inuzuka companions. With her white underbody, gray-blue scales and feathers, horns, and long, feathered tail, Yuko appears as an exotic reptilian with the motions of a cat-like bird. She has the ability to adjust her scales and feathers to disappear from sight and eyes which readjust based on light and heat levels around her. 
Personality:
When out of combat, Yuko is rather silent and stays mostly out of sight. She prefers to remain hidden, moving from one place to another with little interaction. If Fushon is bothered by something, Yuko may harass it until it stops (Fushon's direct family being the exception). When in combat, Yuko is constantly moving and attempting to assist Fuse to strengthen her fighting abilities. When fighting on her own, Yuko will engage the opponent by either disabling their abilities or by simply displacing parts of her enemy. Due to her higher levels of intelligence than normal companions, Yuko is able to strategize and act both as a support to Fushon and calculate plans on her own.
History:
Yuko came into existence in a plane that was separate to our own. She was forced through a dimensional rift into our world and spent her time learning of the behaviors and attitudes of those within it. After decades of observation and practice moving through the materials of the world, Yuko came across Fushon during the Mikadzuki beach event. While most individuals Yuko had watched were either more level-headed or prone to anger, Fushon was an odd mix of each side. Her energy emanated with a strange similarity to Yuko's and created curiosity within the being.
Yuko tracked Fushon back to her village, where she would monitor the young ninja. Once or twice, she even lost track of Fushon and found herself curious to see more. After the passing of the Spirit Rise event, Yuko made Fushon aware of her presence and communicated telepathically with the girl. After all the failed attempts Fushon had gone through with bonding with animals at home, Yuko was the first that seemed to be able to keep up with her.
Type:
Companion
Telegraphing Motion:
The fluttering of scales/feathers, tail and head movements
Element(s):
Water
Specialties:
Space/Time
Passive Abilities:
Linked Communication
Yuko creates a telepathic bond with their ninja companion which they are able to communicate through. This link allows them to share words, images, and/or sensations. This connection works up to 15 meters, extending to 35 meters with the sensory specialty. While Yuko is able to communicate through any language, this is only possible with their current ninja companion. They are able to mimic language with their lips, but the sounds are only heard by their current ninja companion.
Immaterial Travel
With her origins coming from another plane of existence, the natural materials of our world are easy for her to pass through. Yuko is capable of traveling through any non-manmade reinforced material (such as concrete or steel). She is able to move at her speed stat through materials such as, but not limited to: sand, water, dirt, plant life, stone, and other similar materials. She is able to go 50 meters below or above surface level through this form of travel. This works up to a total of 4 posts and has a cooldown equal to the number of posts used + 1.
Reflective Stealth
Yuko is able to realign the scales and feathers along her body to alter how light and chakra interact with her form. This stealth allows her to disappear from all forms of visual awareness. With the sensory specialty, Yuko is able to adjust her scales to affect how chakra interacts with her form and can suppress herself from all forms of detection with power less than her Chakra stat. This works for up to a total of 3 posts and has a cooldown equal to the number of posts + 2.
Predator's Tracking
Through her many years of silently observing and tracking our world, Yuko has enhanced her ability to track foes whether she is moving through materials or not. With this form of tracking, Yuko is able to determine the general location of any opponent within 15 meters of her through a combination of scent, sound, and tremor sense. With the sensory specialty, this extends to 25 meters and includes a similar awareness to chakra sensory. 
Aerial Acrobatics
Alongside tracking others, Yuko has learned how to move easily through the air and control her sense of motion freely. Yuko is able to redirect her motion through the air similarly to how she does while traveling through materials. She is able to change her direction through jumps and flips that can occur at her speed stat. This ability only functions up to 30 meters over any given surface.
Health:
300
Vigor:
70
Chakra:
140
Speed:
85
Strength:
5
Looks pretty good a few things

Change ranges from 50 to 35 with the sensory spec for linked communication.

Change the duration of reflective stealth from 4 to 3 posts, and its cooldown to posts used +2


Dracoso

Chunin

Stat Page

: Dracoso Hehane

---

---

---

Clan Specialty

: Ninjutsu


Village

: Kirigakure


Ryo

: 88570

---
got it, updates have been made.
The abilities are a bit on the firmer side, but at the time of this review, I feel it should be acceptable due to Shiyuko being a companion
Permissions in this forum:
You
cannot
reply to topics in this forum