Iscarot Ushitora

Genin

Stat Page

: Link

---

---

---

Clan Specialty

: Taijutsu


Village

: Konohagakure


Ryo

: 115500

---
Tue Jan 24, 2023 10:51 am
Name:
Red Oni: Wild Wave
Element:
Fire
Rank:
B/A
Specialty:
Taijutsu or Weaponry
Particular Jutsu Type:
Offensive
Backstory:
An Ushitora that followed the path of the Red Oni devised this technique in order to fend off large forces while minimizing damage done to allies and the surroundings
Appearance: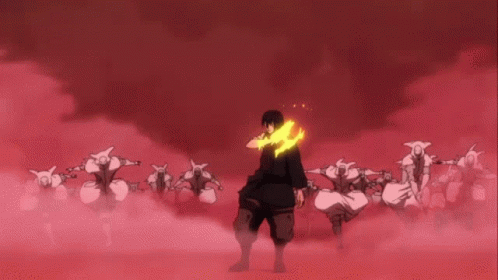 Handseals:
-
Duration:
2/3 Posts
Cooldown:
Posts used +1
Range:
15/20 meters
Power:
40/60
Speed:
40/60
Health:
Stat Boosts:
-
What it does:
The user empowers their body with the power of the Red Oni, channeling fire through either their weapon or body before swiping, causing fire to erupt from them at jutsu speed. The fire will spread out in front of the user and travel 15/20 meters in the direction that the user has swung before expanding into a 5-meter wall of flames that will travel at jutsu speed until it hits an object or person OR hits the maximum range before fizzling out. If this technique clashes with another and beats it in power, it will continue to push forward. However, it will fizzle out if it comes into contact with an attack that surpasses its power. If someone has less strength than the power of this technique, they will be pushed back 5 meters while still taking the damage from this jutsu.
Character Specific:
-
Wordcount to learn:
1750/2750
Action Cost:
35, 45 / 17, 22 upkeep
Mastery:
Y
Bonus Requirements:
Red Oni, Fire
Canon, Custom, Bloodline, or Village Exclusive:
Bloodline
Shiro Hyuga

Mizukage

Stat Page

: The Coming Storm

---

---

---

Clan Specialty

: Taijutsu


Village

: Kirigakure


Ryo

: 53050

---
Ayato Hyuuga

Hogokage

Stat Page

: Ayato


---

Summoning Contract

: Forest of Dreams Ravens


---

Living Clones

: Natsuki
Toneri

---

Familiar

: Maneki

---

---

---

Clan Specialty

: Taijutsu


Village

: Hoshigakure


Ryo

: 11400

---
Permissions in this forum:
You
cannot
reply to topics in this forum