Majima Nara

Genin

Stat Page

: Majima
Health: 100 | AP: 350
Vigor: 34 | Chakra: 25
Speed: 20 | Strength: 25

---

---

---

Village

: Kumogakure


Ryo

: 2000

---
Majima Nara
Alias:
Age: 19
Height: 5'9" (175cm)
Appearance:
Majima has a relatively tall and slim build with a spiky head of dark black hair. His eyes are a blue/green combination of teal and he typically wears his village headband tied around his neck but in such a way that the village symbol plate is concealed under his shirt collar or hoodie. His clothes are usually dark colors with his typical wardrobe being a dark blue jacket with gold buttons and a large collared area worn over a shirt and matching pants that go to his shins. Shoes are black with exposed purple socks that come up to meet the pants. He also has a tattoo of the Nara clan symbol on his back.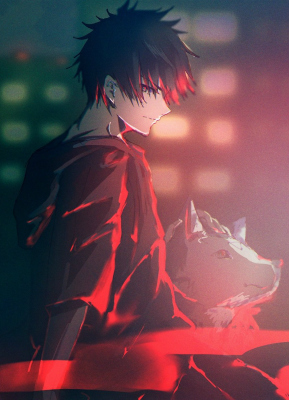 Personality: Majima is a generally fun person to be around most of the time. He is a touch goofy but is also fiercely competitive. He doesn't buy in to the narrative of the Nara clan producing natural born geniuses and thus while he can be an analytical thinker he doesn't act as if anything he achieves is a result of his being born a Nara. Majima believes that people should focus on what they can earn with their ability rather than what they deserve because of their birth. 
Clan: 
Nara
KKG:
N/A
Clan Specialty:
N/A
Specialties:
Taijutsu |
Element:
Lightning |
Advanced Element:
N/A
Bijuu:
V1 -
V2 -
Full Beast -
Current Stat Points:
 100
Current Health Bar:
 100
AP:
 350 (340|10)
Vigor:
 34
Chakra:
 25
Speed:
 25
Strength:
 25
Substats:


-Base AP: 340
-Bonus AP: 10/1000 (Missions + Rank Up)
-Chakra Control Bonus: 0%
-Reflex Speed Bonus: 20
-Passive Damage Reduction: 25
-Jumping Distance/Height: 11 meters
-Throwing Speed: 10
-Throwing Distance: 5 meters
-Sharp Impact Force: 10
-Blunt Impact Force: 12
-Physical Damage Output: 12

The Jutsu Scroll



Jutsu Mastery: Increased Power/Tech Specific | Reduced AP/Half Handseals | No Handseals


A-Rank [0/5]
B-Rank [0/10]
C-Rank [0/15]
D-Rank [∞]
E-Rank [∞]
Slotted Skills [0/5]
Inventory:
Carried:
Weapon Pouch (Left):
Weapon Pouch (Right):
Stored:
Misc:
- Ryo Wallet: 2000
- Staff WC: 12850
- Event WC: 3000
- Mikadzuki Event Tickets: 10
Your Story:
Prologue:
Your Missions:
Majima's Missions
Majima Nara

Genin

Stat Page

: Majima
Health: 100 | AP: 350
Vigor: 34 | Chakra: 25
Speed: 20 | Strength: 25

---

---

---

Village

: Kumogakure


Ryo

: 2000

---
Sun Jul 31, 2022 10:45 pm
Starting Ninja Bundle - 500 - 5 Kunai, 5 Shuriken, 2 Explosive Tag, 2 Smoke bomb - Non-Weaponry stats

Approved Here
Majima Nara

Genin

Stat Page

: Majima
Health: 100 | AP: 350
Vigor: 34 | Chakra: 25
Speed: 20 | Strength: 25

---

---

---

Village

: Kumogakure


Ryo

: 2000

---
Site Administrator

Citizen


Stat Page

: Stat Page

---

Ryo

: 0

---
The member 'Ayato Hyuuga' has done the following action : Roll Dice/Flip Coin


---
'6 Sided Dice' : 3
Majima Nara

Genin

Stat Page

: Majima
Health: 100 | AP: 350
Vigor: 34 | Chakra: 25
Speed: 20 | Strength: 25

---

---

---

Village

: Kumogakure


Ryo

: 2000

---
Wed Aug 10, 2022 10:00 pm
Majima Nara

Genin

Stat Page

: Majima
Health: 100 | AP: 350
Vigor: 34 | Chakra: 25
Speed: 20 | Strength: 25

---

---

---

Village

: Kumogakure


Ryo

: 2000

---
Permissions in this forum:
You
cannot
reply to topics in this forum