Ayato Hyuuga

Hogokage

Ryo

: 90783

---
Thu Nov 12, 2020 12:26 pm
Name:
Hiding with Camouflage Technique
Element: Rank:
B/A
Specialty:
Sensory
Special Jutsu Type:
--
Backstory:
--
Appearance: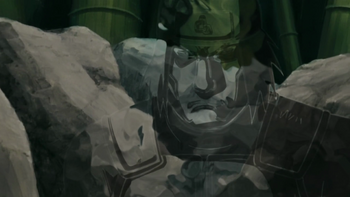 Handseals:
Dog - Bird - Hare - Monkey - Horse
Duration:
up to 3/4 posts
Cooldown:
posts used +2
Range:
User
Power:
30/50
Speed:
30/50
Health:
30/50
Stat Boosts: 
--
What it does:
 Chakra is molded around the body to reflect light to make the user's body, breath, shadow, and weapon invisible to the naked eye. The user can become detected by sound, special sensory dojutsu (i.e., Sharingan, Byakugan), or those with sensory chakra techniques of higher power than this jutsu. This technique is usually used before combat but can also be used during battle. The technique will forcefully stop when the user takes damage equivalent to Jutsu Health. 
If a user were to pick up an item that was not already invisible to the said user, the user could also apply the technique. The item will only stay invisible along with other items while on the user's person. Users cannot make other organisms invisible until they level the technique to A-rank. If the method is leveled to A-rank, then the user might make another organism invisible for the duration of a maximum of 2 posts at the additional cost of 20 AP - non-discountable. However, they must physically contact them to do so and only one target at a time. The user and target they choose to turn invisible, living, or otherwise become so at jutsu speed.
Finally, per invisibility technique guidelines, the user can't stay invisible within 3 meters of a different living target.
Character Specific:
--
Wordcount to learn:
1500/2500
Action Cost:
30/40. 15/20 upkeep
Mastery:
--
Bonus Requirements:
--
Canon, Custom, Bloodline, or Village Exclusive:
Canon
Shin

Missing-Nin (S-rank)

Ryo

: 8000

---
Discussed on discord and edited accordingly.
Approved
Ayato Hyuuga

Hogokage

Ryo

: 90783

---
The technique was updated to meet the guidelines of invisibility techniques., Thus a user of this jutsu can't be invisible within 3 meters of another living target. The duration was updated to 3/4 posts, respectively, and finally specified that one extra target can be made invisible at a time at the cost of 20 AP (non-discountable).
Permissions in this forum:
You
cannot
reply to topics in this forum